Begin your yoga journey.
Ocean & Soul Yoga + Bodywork Therapies welcomes all levels, offering a nurturing space to refresh your mind, energise your body and reconnect with your soul.
For both beginners and evolving yogis, Ocean & Soul teaches Hatha Vinyasa, Yin Yoga and Restorative Yoga – both separately and combined – to provide a dynamic and open yoga class blending wide-ranging asana technique, breathing control and intelligent vinyasa flow.
Why yoga?
Yoga dissolves the layers of restriction created through life's experiences that limit the mind and body on a daily basis. Practicing yoga establishes openness, balance and strength, physically and mentally, in helping us to live life harmoniously and free without limitation.
Unlike conventional exercise, yoga is a dynamic, free-flowing practice, allowing us to connect with the earth and explore our body's strengths and weaknesses at our own pace, pinpointing areas of tension, moving freely through space as our bodies allow while unlocking newfound physical and spiritual potential.
Progress with Bruna Pellenz
Bru is a certified yoga instructor (RYT 200) and Thai massage practitioner (Level 4) based in Burleigh Heads, dedicated to inspiring wellness and mindfulness in others through the practice of yoga, inspired by Hatha Vinyasa with a unique style crafted from personal experience emphasising bodily awareness, body alignment and mental focus both on the mat and in everyday life.
For over ten years, Bru has explored different styles of yoga on a journey of body, mind and heart that has led to her teaching and inspiring others, for the last five years, in Burleigh Heads and around the Gold Coast.
Bru welcomes all to Ocean & Soul, enjoying a personal love for cute waves, sunsets and the big smiles of her students.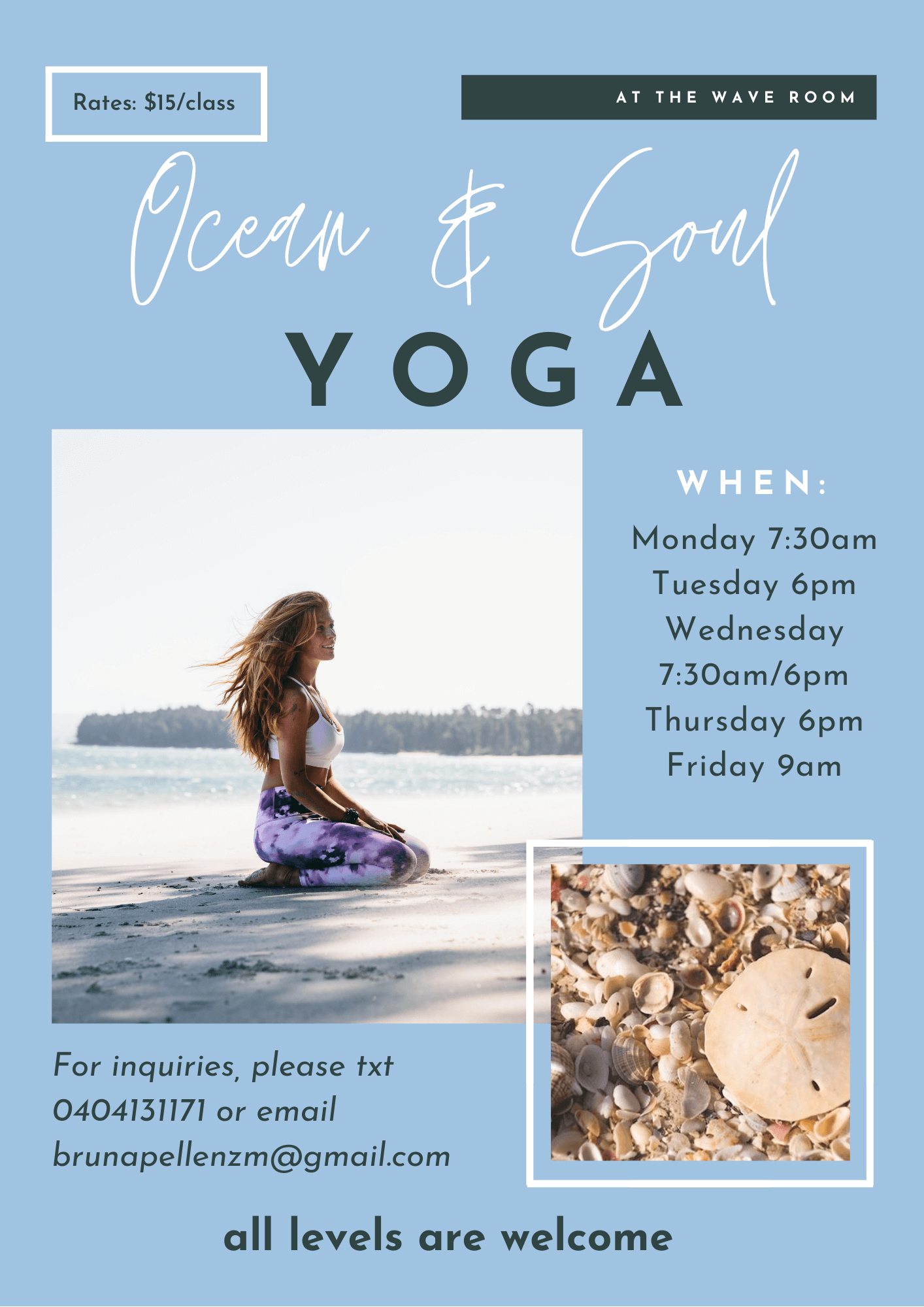 The Wave Room at Swell Resort
Ocean Soul Yoga & Bodywork Therapies establishes its home in The Wave Room – a welcoming, light-filled space providing every element needed to reconnect, nourish and indulge – based at Swell Resort, 1 Ocean Street in the heart of Burleigh Heads Gold Coast.
Utilising therapeutic essential oils, deep meditational music and calming yoga props in a relaxing and open environment, Ocean Soul Yoga at The Wave Room is a fully immersive yoga experience offering a variety of classes held regularly throughout the week, non-competitive and encouraging of all levels and ages.
Burleigh Heads Accommodation
Planning on visiting Burleigh? Discover Gold Coast and reap the benefits of Ocean & Soul Yoga while relaxing in fully self-contained Burleigh accommodation, comprising 1, 2 and 3 bedroom Standard and Superior apartments just 2 minutes' walk from Burleigh Heads Beach, with superb guest perks that include ocean view private balconies, a heated pool and spa, full-sized tennis court, gym and complimentary free WiFi.
Find more information at Swell Resort Burleigh Beach.