BURLEIGH BEACH
What makes Burleigh Heads Beach one of the best beaches on the Gold Coast?
It's multiple reasons actually, but it all comes down to how Burleigh Beach is so universal, offering everything you could want from a beach.
It's got the swaying trees overhanging pristine sun-kissed sand, the cool laid-back vibe, stunning coastal views stretching either way and prime natural surfing conditions generated at the beach's lush tropical headland.
There aren't many beaches that boast a breath-taking oceanfront national park right next door, but Burleigh Beach is one. Not only that, but Burleigh Beach offers a host of world-class restaurants and cafés near the beachfront, two inviting beachside surf clubs and a vibrant hub of boutique fashion shops just a stroll away from the sand on James Street.
All in all, Burleigh Heads Beach has something for everyone, and a distraction to match any mood or pastime.
Whether it's swimming, sunbathing, surfing or a barefoot stroll with the ocean waves ebbing and flowing between your toes, Burleigh Beach is diverse in what it has to offer, making it a Gold Coast beach that stands out from the rest, year-round. 
BURLEIGH HEADS SURF
 Planning to surf on the Gold Coast?
 You can't go wrong with Burleigh Beach. The famous Burleigh Heads surf is owed to its rocky headland, where the natural surf break delivers perfect year-round surfing conditions for both first-time learners and experienced surfers.
You'll find the headland at the southernmost part of Burleigh Beach. The Surf Club Burleigh Heads and Godfathers of the Ocean Surf School are both located nearby. For non-surfers, there's always Burleigh Hill and Burleigh Head National Park, where views overlooking the surf offer ideal spots to kick back and watch the waves.
With its ideal surfing conditions, it's no wonder why Burleigh Beach is also the home of various annual surfing events. Just one of these is The Australian Surf Life Saving Masters and Open Championships held each April, more widely known as The Aussies. And for surfing enthusiasts, it's simply one of the best times to visit Burleigh Heads Beach.
WHERE IS BURLEIGH HEADS BEACH
Where is Burleigh Heads Beach?
Burleigh Heads Beach is actually one of the Gold Coast's most central beaches, just 20 minutes drive from both Surfers Paradise and Coolangatta and easily reached via the Gold Coast Highway.
Situated right in the heart of the Gold Coast, Burleigh Beach won't disappoint if you're planning on seeing as much of the Gold Coast as possible. Its neighbouring beach destinations are Broadbeach – home of Kurrawa Beach, Pacific Fair and The Star Gold Coast – Palm Beach, as well as Currumbin Beach, which boasts the award-winning Currumbin Wildlife Sanctuary.
Locally, Burleigh Beach is a mere stroll away from James Street, a host of top-rated restaurants and cafés (on Goodwin Terrace, Connor Street and more) and the famous Burleigh Village Markets at Burleigh Head State School. Burleigh Head National Park can be reached from the beach by simply walking up Burleigh Hill.
Burleigh Beach is also a 5-minute drive from Stockland Burleigh Heads Shopping Centre, as well as David Fleay Wildlife Park – one of Burleigh's best tourist attractions.
Here at Swell Resort, Burleigh Heads Beach is only a few minutes walk away from our central Burleigh Heads accommodation.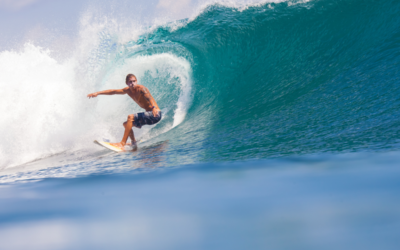 Good to Know Before You Go Where is Burleigh Heads, QLD? Burleigh Heads is one of the Gold Coast's many suburbs. It is flanked by the Tallebudgera...
read more